Azuchi Tohma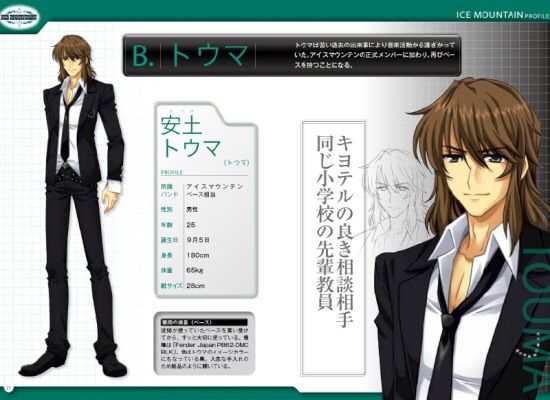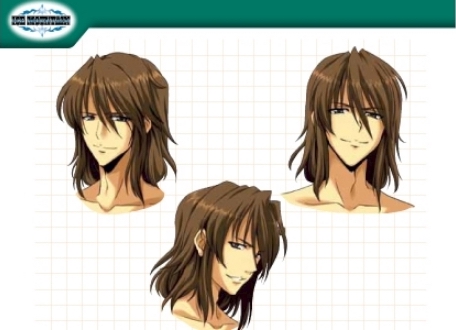 Azuchi Tohma. He had to step back from his musical activities because of bitter experiences he's had in the past. He picked up his bass again when he joined ICE MOUNTAIN. He's Kiyoteru's confidant, and works at the same school as his senpai teacher.
Age: 25
Birthday: September 5
Height: 180cm (5'9″)
Weight: 65cm (143 lbs)
Shoe Size: 28cm (11″)
Favourite Instrument: He was given his bass by his female cousin, and has always used it with great care. It's a Fender Japan PB62-DMC BLK, black, which is Tohma's favourite color. It looks brand new because of his maintenance work.
Hobby: Smoking and drinking coffee
Family: Nobuhide (father), Hana (mother), Ichiko (cousin)
Reliable like a big brother. However, people may see him as a slacker because of his beard which he doesn't shave out of laziness, and his loose necktie.
ICE MOUTAIN's leader is Akito, but Tohma often gathers everyone's opinions and puts them together.
Most mature of all the band members.
Amusingly watches over the younger members when they get excited.
Likes doing laundry and keeps hygiene, but he doesn't care about stains or creases on his white shirts because he thinks they can't be avoided.
ロックバンド「アイスマウンテン」のベース。
大学時代はインディーズバンド「安土桃色時代」のリーダー。タバコとコーヒーが欠かせない。長髪で無精髭、洗いざらしの白衣にジャージ、理科準備室の私物化など、学園内での評価は「不始末が白衣を着て歩いている」。少々オヤジっぽい言動が目立つが、頼りがいのある兄貴的存在。地質学研究が度を超して大学院まで出ている。安土流剣術免許皆伝。同僚にして道場の後輩の天音ハルトに甘える日々。小学校教師。
小学校教諭
頼りになるアニキのような存在。
ちょっとだけオッさんくさい。
同僚のハルトには何かと怒られる。
学生時代は【安土桃色時代】というバンドのリーダー。
ベース担当。
タバコ(ピース)とコーヒーは欠かせない。
大学時代は地質学専攻。
安土信秀(父)武道家
安土 花(母)
小谷市子(従姉妹)
斎藤濃里子(下宿人)※信秀の友人の娘
Timeline
Childhood
Bullied because he was short, thin, and prone to getting ill.
155cm (5'1) tall when he graduated.
Junior High School Years
Rebellious. Got into fights every day.
Saw his cousin, a female bassist who was in high school, perform live, which made him want to try bass.
Severed his ties with bad company, and started learning bass with the help of his cousin.
Often spent his days off at his cousin's.
Suddenly started growing up. He was 178cm (5'8) tall by the time he graduated.
High School Years
His cousin offered him a bass (which would become his trademark instrument) to celebrate his entry to high school.
Spent his days practicing bass.
Hired in different popular amateur bands, but each time he caused trouble and got fired.
180cm (5'9) tall by the time he graduated.
College Years
After having been told by his cousin he was really suited to become a teacher, he received a teacher's license.
Adult Life
Became a teacher at the Hachigata-jou Minami primary school.
The day he was hired, his cousin told she was going to get married. It came as a shock to him, and he couldn't play bass anymore.
Moved in "Park Side Minami," an apartment building, alone.
Made the science classroom his own, where he smokes tobacco.
Doesn't let anyone touch his bass, which reminds him of his cousin.
Invited to become part of the band by Kiyoteru, but refused at first.
Secretly looks forward to Kiyoteru's reaction ("HOT!") when he gives him a cup of hot coffee.