Hokaze Natsuki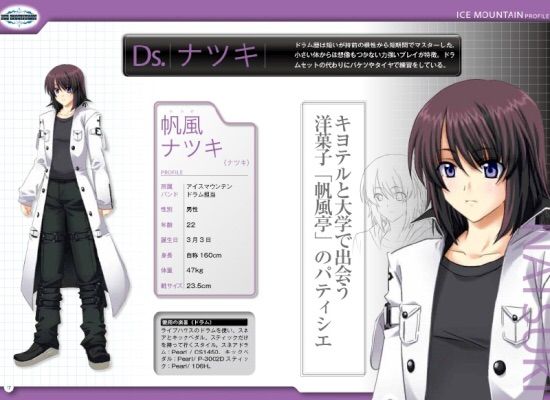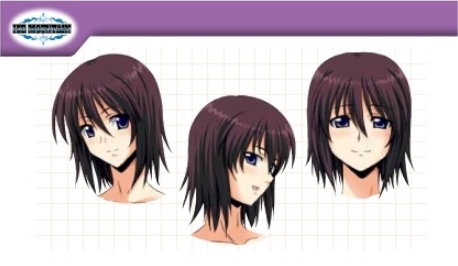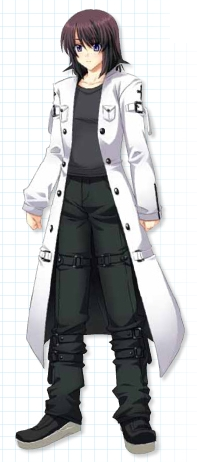 Hokaze Natsuki. He hasn't been playing the drums for a long time but mastered his instrument quickly. His frail body makes his aggressive playing style all the more surprising. He practices with buckets and tires instead of his drum set. He met Kiyoteru in college. He's a baker at the "Hokaze-tei."
Age: 22
Birthday: March 3
Height: 160cm (5'25")
Weight: 47kg (99 lbs)
Shoe Size: 23.5cm (9″3)
Favourite Instrument: He uses the drum sets that are already in the places he performs at, except for the snare (Pearl/CS 1450), the kick pedal (Pearl/P-3002D) and his sticks (Pearl/106 H)
Hobby: Making Kiyoteru taste his new cakes
Family: Chiyo (grandmother), Masayuki (father), Haruko (mother), Natsumi (older sister)
Keeps a low profile, calm and serious, but can be scary when he gets angry. More competitive than anyone else.
Is passionate about everything. When he starts doing something, he has to do it completely and perfectly or else he cannot settle down.
Kiyoteru is the one he trusts the most among his band mates.
Gets suddenly angry when he's mistaken for a girl.
Is actually weak to fancy things.
Is constantly trying to act manly.
ロックバンド「アイスマウンテン」のドラム。
アキトとキヨテルとは大学で知り合う。中学高校はブラスバンド部でサックスを担当。大学時代にアキトとキヨテルと結成したバンドでドラムを担当して現在にいたる。小柄で女性的な容姿なので、男らしさに必要以上にこだわり、女性に間違われると一瞬でキレる。祖母が営んでいる『ベーカリー&ペストリー帆風』を大学時代から手伝っており、将来の夢はパティシエ。祖母に仕込まれた中国武術もなかなかの腕前。愛車はフランス製ロード。彼女いない歴22年。専門学校生(調理学校の洋菓子部門)。
パティシエ修業中
負けず嫌い。
ドラム担当。
メンバーの中では、キヨテルのことを一番信頼している。
女性に間違えられると、一瞬でキレる。
常に男らしさにこだわる。
アキトとはつねに口げんかをしている
中国拳法をたしなむ。
帆風千代(祖母)
帆風正行(父)
帆風春子(母)
帆風菜都美(姉)※双子の姉だが死別
Timeline
Childhood
His parents made him wear Western-style girls' clothes and raised him as a girl, which got him to think he was a girl.
His grandmother raised him since his parents were busy with their jobs, so he didn't go to kindergarten. He had no friends, and that's why he grew up thinking he was girl without thinking more about it.
Often played alone, with his dolls and stuffed toys.
Primary School Years (Hachigata-jou Minami primary school)
Because of his cute appearance and his unisex first name, his homeroom teacher mistook him for a girl, and he even lined up with the girls during the school entrance ceremony.
Became conscious of his real gender, and started to behave like a boy.
Often teased because of his girlish looks, and started to grow stronger because of the numerous fights he got in.
Started to drink milk every day to grow taller.
Junior High School Years (Hachigata-jou Minami junior high school)
Started to help at his grandmother's bakery. He learned the basics of store tending and pre-cooking, and baked cakes as a leisure activity.
Because he was cuter than the schoolgirls, he never got a girlfriend. He had no interest in romantic relationships.
High School Years (Hachigata-jou Minami high school)
Troubled because of his lack of facial hair; he would never have facial hair even as an adult.
Troubled because his voice didn't break; his voice wouldn't change even as an adult.
College Years (Tenshou Onkyou university)
While he was trying to be manly and find a girlfriend, Akito tried to pick him up, which killed his motivation.
Made his first friend, Kiyoteru, at their seminar, and was invited into the band, something which deeply moved him.
When he learned Akito was in the band, he tried to reject Kiyoteru's proposition, but Akito told him it wasn't manly not to keep one's promises, which convinced him to enter the band as the official third member.
Kiyoteru asked him to take on the bass or the drums; since the drums seemed to be a manlier instrument to him, he chose it without hesitation. He was inexperienced, but started to practice seriously.
Adult Life
He takes part in ICE MOUNTAIN's activities while working at a bakery named "Hokaze-tei."
Brings leftovers and his new cakes to Kiyoteru, at his night duty room.
He would never let anyone in his room because of the stuffed toys placed at his bedside.
Weak to alcohol; when he wakes up after having drunk, he can't remember what he did the previous day. He can be described as the type of drinker who picks quarrels and annoys people.