Amane Haruto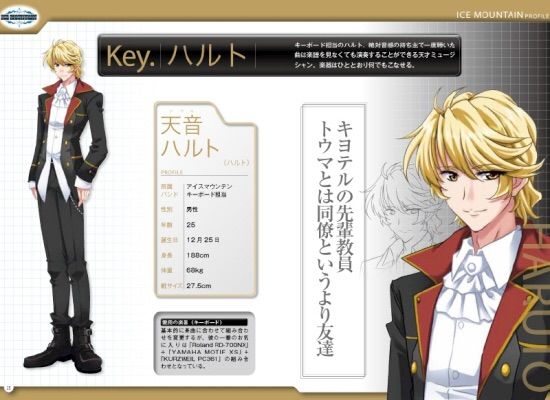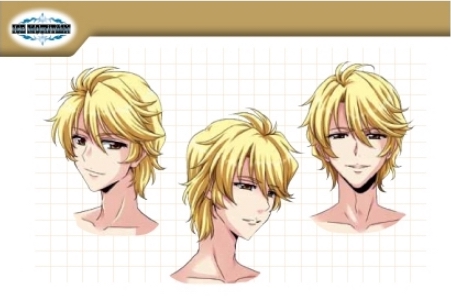 Amane Haruto. He's ICE MOUNTAIN's keyboardist. He his a genius musician who can play any song he's listened to only once without ever looking at the sheet music, thanks to his perfect pitch. He can master any musical instrument. He's a colleague of Kiyoteru, and considers Tohma more as a friend than a coworker.
Age: 25
Birthday: December 25
Height: 188cm (6'1)
Weight: 68kg (149.6 lbs)
Shoe Size: 27.5cm (10″8)
Favourite Instrument: He usually changes his gear and uses different combinations depending on the song, but his favourite one is Roland RD-700NX + YAMAHA MOTIF XS + KURZWEIL PC361
Hobby: Piano, gardening, appreciating music and arts
Family: Imakura (grandfather), Yoshiyuki (father), Ai (mother), Yuuri (little sister)
Lives by his own value standards, which in a sense makes him someone who lives in a different dimension.
Inherited his mother's airheadedness.
Likes pretty things.
Always doing things at his own pace.
Tends to come off as cold because he doesn't get passionate easily, but deep down he is very warm.
Hates conflicts.
Is concise when he speaks his mind, but he reflects a lot and so he knows how to teach children in the most effective way.
ロックバンド「アイスマウンテン」のキーボード
楽器はほぼなんでもこなせるが、アイスマウンテンでは欠けているキーボードを担当。資産家・天音家の長男で、音楽教師は彼の一部の姿。あらゆる芸術を愛するパーフェクション。中等部と高等部の色気づいた女子からは「王子」と呼ばれている。バラの育成に関してはプロ並み。武道も芸術ととらえているため、さまざまな武道にも造詣が深い。安土流剣術道場でトウマに出会って以来、トウマをフォローするハメに。音楽教師。
小学校教諭(音楽)
キーボード担当
芸術好きでライフスタイルにもこだわる。
実家はお金持ち。
西洋の騎士道、または軍人のような雰囲気も。
冷たいと思われがちだが、心の中は温かい。
文句をいいながらも安土トウマをなにかとフォローする。
妹がふたり。一卵性双生児で美少女。
天音今蔵(祖父)
天音善幸(父)
天音 愛(母)
天音優理・愛理(妹)※一卵性双生児
Timeline
Childhood
While his parents are both Japanese, he was born with true blonde hair. DNA tests support the fact that his parents are indeed his true parents.
His grandfather is the head of an international zaibatsu.
Primary School to College Years
Confirmed to be intellectually gifted (innate genius).
Went to America to receive a special education for gifted children.
Returned to Japan after he graduated.
Adult Life
Became a teacher at the Hachigata-jou Minami primary school. He's in charge of the grade 6 class 2, and teaches music to other classes.
In charge of music education. He brought in his own expensive piano.
Uses a custom white limousine to go to work.
Very popular among the children's mothers.
Says out loud what he thinks in a frank manner, but isn't mean-spirited.
Thinks Natsuki's appearance is a beauty gifted by God.
Apparently makes huge donations to the school, so he never gets into trouble, however unreasonable his actions may be.
Can harmonize with animals and plants.
Was born with an ability to perceive people's true nature. He took an interest in joining ICE MOUNTAIN because he was intrigued by Kiyoteru, whose nature he hasn't been able to perceive yet.
His grandfather doesn't approve of him, his heir, or being a teacher.
His mother is kind, and is a worldwide renowned pianist, but she's extremely airheaded, and nothing can get her full attention. He was heavily influenced by her talent as a pianist and her airheadedness.
Deeply respects her and simply sees her as the perfect woman.
Has a much younger sister who is in first year of high school, and who is exactly like her mother was at her age. Contrary to Haruto, she has beautiful straight black hair and is a beautiful girl. She suffers from a severe brother complex, and she calls him "onii-sama." She likes doing tarot. She loves telling her brother's friends' fortune when they drop by; when she did it with Kiyoteru the first time he came, her face turned pale and she stopped.