Hiyama Akito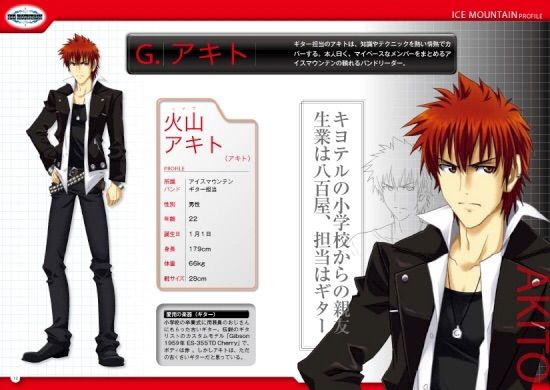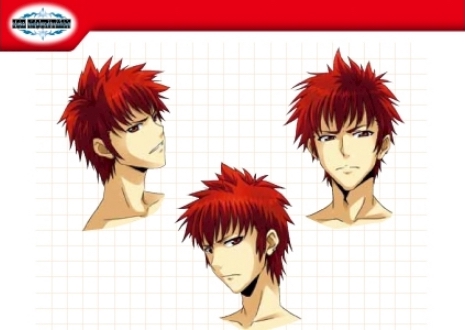 Hiyama (火山, "fire mountain") Akito. Kiyoteru's friend since primary school, he works as a green-grocer and is the guitarist and easy-going band leader of ICE MOUNTAIN. He compensates his lack of knowledge and technique with his energy.
Age: 22
Birthday: January 1
Height: 179cm (5'8″)
Weight: 66kg (145.2 lbs)
Shoe Size: 28cm (11″)
Favourite Instrument: An old guitar his primary school's janitor had given him when he was admitted to junior high school. It's a red Gibson 1959 ES-355TD Cherry, a custom model made for a legendary guitarist. Despite this, Akito only sees it as an "old guitar".
Hobby: Guitar, teasing Kiyoteru, bullying Natsuki
Family: Hachirouta (father), Taeko (mother), Akiko (older sister), Tatsuhiro (little brother)
Passionate and relentlessly leading those who surround him.
Doesn't really pay attention to what people tell him.
Acts before thinking.
Good-hearted and easily moved to tears.
Spontaneously says out loud what he is thinking.
Never had a relationship with a girl.
ロックバンド「アイスマウンテン」のギタリスト。
氷山キヨテルとは小学校からの親友で、小、中、高、大学もいっしょ。小学校の時に担任教師に見初められギターの手ほどきを受ける。超絶ギターテクニックのå持ち主で愛用のギターはレスポールスタンダード(サンバースト)。小学校時代にキヨテルとのアコーステックデュオを結成。義理と人情に厚く、明るく情熱的なO型。忙しい両親に替わって育て上げてくれた姉の彰子には頭が上がらない、というかパシリ。愛車はイタリア製のスクーター。彼女いない歴22年。有限会社火山青果店従業員。
有限会社火山青果店従業員
ギター担当にしてバンドリーダー。
姉の彰子には逆らえない。
人情に厚く、意外と涙もろい面もある。
サンバーストのレスポールを使用。
女性との交際歴なし。
キヨテルとは幼なじみ。
火山八郎太(父)有限会社火山青果店社長
火山妙子(母)有限会社火山青果店専務
火山彰子(姉)27歳 フードスタイリスト
火山竜弘(弟)中学生
Timeline
Childhood
First-born son of a green-grocer. Brat-in-chief.
Around the 6th year of primary school, he kept telling people he'd create a band.
Used to speak for hours with the school's janitor about his strong desire to play in a band. He received an old guitar as a present from the janitor when he graduated. He had no idea that the janitor was in reality a legendary guitarist.
Junior High School Years (Hachigata-jou Minami junior high school)
Invited Kiyoteru to start musical activities. The name "ICE MOUNTAIN" comes from the first part of Kiyoteru's name and the second part of his own name (TN: their names are pronounced the same, but the first kanji differs both in meaning and writing. However, they share the same second kanji, 山 yama "mountain") He later realized saying it was "his" yama didn't make sense and felt down.
High School Years (Hachigata-jou Minami high school)
Started doing street concerts with Kiyoteru. It was also at this time that he improved a little in his guitar skills.
College Years (Tenshou Onkyou University)
Love at first sight when he mistook Natsuki for a girl. He then tried to pick him up, which turned out to be a bitter experience that traumatized him. He would later have troubles with trying to pick up girls.
Akito tried to recruit a bassist, but he always caused troubles during the sessions.
Got busy with helping at the green-grocery after his father got forced to bed. ICE MOUNTAIN temporarily stopped it's activities.
Adult Life
Suggested to Natsuki and Kiyoteru that they resume ICE MOUNTAIN, on the spring of his graduation.
Akito never wrote lyrics, but one day he hit on an idea while working at the green-grocery, and started to write something about vegetables and fruits. His lyrics were rejected unanimously.
Intrigued by a young girl wearing twintails, who comes to the greengrocery every day to buy negi in large quantity.